Peggy Hill is the author of "Bedtime Stories for Grown Ups Vol 1".
She is the former Deputy Director at National Mental Health Innovation Center with a long career in the Behavioral Health field. Her passion for people and their wellbeing, combined with her artistic nature and desire to write come together in this collection of short stories reminding adults young and old of the good in the world and the lessons stories can teach us.
A whimsy of colorful family members keeping each other from near disaster and headed for love, a fast-paced distraction of a mountain town kidnapping and attempted rescue, a driven retired Naval officer 'making things right' wherever she sees the need for practical mercy and justice, a mysterious and understated antiquarian bookstore owner with the key to a customer's secret heritage. And more. This collection of stories is an escape from the stresses of life, while also reminding us of those lessons we learned as children from the fables of old.
NOW AVAILABLE
Bedtime Stories for Grown Ups, Vol 1.
"Wow. Wow. And WOW. I Truly loved this book."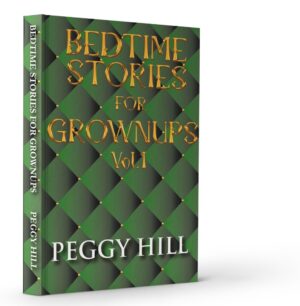 "My aim in writing these diverse and hopefully engaging little tales is to give people a little moment of escapism and a happy ending. The sort of thing that all of us who are working hard in the world, pay attention to its sorrows, and may (just may) occasionally struggle finding balance might read and remember the goodness in people and life."

– Peggy Hill