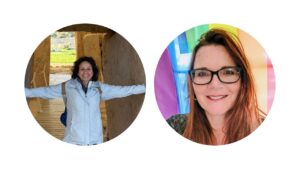 Andrea Susan Valentine Gelfuso Goetz is an environmental attorney who teaches law, and loves kids, animals, exploring the world and writing about it, and making people laugh.
Lindy Lou Losh – After 20+ years in corporate America, Lindy returned to her childhood dream of becoming an artist. She hopes her art will inspire others to be kind, empathetic, and inclusive. Born in Homestead, PA, Lindy now enjoys life in Brighton, CO, with her amazing husband, son, daughter, dogs, cats, and turtles.
Zuri the zebra spends her days walking back and forth in her zoo enclosure with nothing to do. When Sam the zookeeper forgets some cans of paint, Zuri's neighbors, a pair of rascally chimpanzees, agree to help her brighten things up. The colorful zebra begins to attract a lot of attention, but everyone is more focused on the holiday season's gift-giving to worry about the plight of the animals at the zoo. Can Zuri and her friends help change the seasons of giving after all?
NOW AVAILABLE for PRE ORDER
Zuri the Zebra and the Seasons of Giving